Modern cars are getting fatter. Models are becoming larger and larger with every new generation and it seems that there is no end for it. The first Volkswagen Golf was a rather small car, but the current one is relatively big, which is not really a problem, but don't you miss small and cheerful hot hatches? If you do, you're in for a treat – Volkswagen has just introduced a new up! GTI and it is very similar to the original Golf GTI.
People often think that the first generation of the Golf GTI were the first hot hatches created. That's not true – the first one was Autobianchi A112 Abarth from Italy or, if we ignore its lack of a hatch, the original Mini Copper. However, the Golf GTI really did kick off the popularity of hot hatches. It was an instant hit and made other manufacturers take notice of it.

The Golf GTI came to be because German autobahns belonged to big saloon cars and expensive sports cars. There really wasn't anything reliable that could go fast and be decently affordable. Volkswagen then decided to use its very popular Golf as a basis for a completely new breed of car and thus the Golf GTI was born.
It was a really good car, although you may find it hard to consider it sporty. It reached 100 kph in 9 seconds and could speed up to 182 kph. Not very fast, was it? But, for those times, it was pretty impressive, especially considering how small and relatively cheap the Golf GTI was. It had 110 hp (81 kW), but it weighed only 810 kg – the light weight made it really agile and nimble.
As for the looks, it didn't differ that much from the normal Golf. It had slightly bigger wheels, a wider track, a red stripe around the front grill and a nice big fat lip. So how does the new up! GTI follow its example?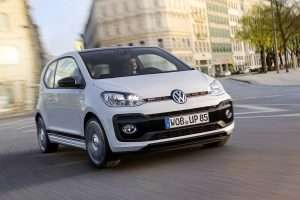 It can reach 100 kph in 8.8 seconds and its top speed is 197 kph, so it is faster to a certain extent. It is a bit more powerful as well – its turbocharged engine produces 115 hp (85 kW).  It is heavier though – safety and comfort technologies mean that modern cars are heavier. However, a 997 kg weight is still quite impressively light.
And, of course, the new member of the GTI family has its red stripe, checked pattern seat upholstery, golf ball shift knob and a number of other styling features. Nice large 17 inch alloy wheels look especially nice, since the car is sitting 15 mm lower than the usual up!
We predict it is going to be an instant classic. It takes what is best about the original Golf GTI and gives it a modern twist. It is not the fastest hot hatch, nor it is the best looking. But it's not pretending to be any of that. It is honest, light and simple. And refreshing for it.