Peugeot 406, produced in 1995-2004, is a fairly simple everyday family car. Laurent Rossi's design looked sharp and modern in its day, but now it's an easily forgettable vehicle. Except for the 406 Coupé – this two-door beauty is slowly becoming a classic.

The Peugeot 406 was a commercial success. It may not have pushed the boundaries of design and was never the most innovative car on the road, but thousands of people found the Peugeot 406 to be a practical, comfortable and safe family car. Its design is very reminiscent of the previous 405, which was created by Pininfarina. In fact, Peugeot and Pininfarina have a long history of collaboration.
A coupe was almost a tradition in the Peugeot model range. The Peugeot coupes have always stood out for their affordable price, elegant design and classic GT-esque charm. The Peugeot 504 Coupé, introduced in 1968 and designed by Pininfarina, was a beautiful car. Similarly, the Peugeot 505, which was also marked with the Pininfarina logo, did not have a coupe version. When it ceased production in 1983, Peugeot was left without a coupe because such a niche model did not seem like a good business decision for a company experiencing financial difficulties.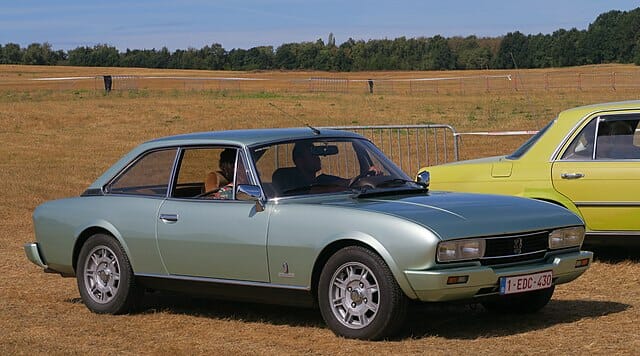 For a while, Peugeot completely forgot about the coupe segment, because it was never very profitable. However, Pininfarina did not forget Peugeot coupes. After all, a long and low two-door car is such a stylish part of life – how can you not make one?
Peugeot 406 Coupé could have been a Fiat?
In the early 1990s, the Pininfarina factory in San Giorgio near Turin produced bodies for the Cadillac Allanté. General Motors' brilliant plan to build the bodies in Italy and assemble the cars in Detroit turned out to be quite foolish – it was simply too expensive. The Pininfarina factory didn't have work for a bit, so they went to Fiat with an enthusiastic proposal.
In 1990-1991, Fiat thought about the production of a new coupe based on the Tipo. Pininfarina proposed a sleek and elegant coupe concept, but Fiat's American designer Chris Bangle offered his own design. His Coupé was significantly more aggressive, with sharp body lines that seemed to be borrowed from the world of supercars. Fiat chose Bangle's creation (which ultimately sold over 70,000 units worldwide and was very popular in Europe). Pininfarina did not have reasons to be sad about the rejection – they designed the interior of the Fiat Coupé and assembled these cars at their factory in Turin. Meanwhile, the coupe concept that Pininfarina proposed to Fiat remained unused.
If we were to go through the archives of the most famous Italian design houses, we would probably find many projects that were never realized. How many insanely beautiful concept cars have fallen into the drawers of Pininfarina, Bertone, Italdesign and other design houses? After all, each concept is created for a specific era – after a few years, trends, safety and technical requirements change and those designs are no longer suitable for the automotive industry. This could have happened to the Pininfarina coupe offered to Fiat, but Pininfarina remembered their good old friend Peugeot.
Peugeot accepted Pininfarina's offer with open arms and the Peugeot 406 Coupé was presented at the 1996 Paris Motor Show.

Peugeot 406 Coupé
Pininfarina adapted its coupe to Peugeot's design language – it's not exactly what Fiat could have had. And what a beautiful car the 406 Coupé is!

At around 4.6 meters long, the 406 Coupé is slightly longer and barely wider than the sedan. In fact, while the Coupé retained some of Peugeot's design cues of the time, it was very different from other 406s, sharing no bodywork with the sedan. The 406 Coupé features a very sleek, athletic silhouette, reduced front profile, visually smaller headlights and taillights. The smaller eyes of the 406 Coupé give the car a kind of aura of confidence, and the sleek body lines are unbroken by any aerodynamic devices.
The Peugeot 406 Coupé was not as French as many people think. Pininfarina designed and produced it. All 107.6 thousand Peugeot 406 Coupés were produced in a factory near Turin. Almost half of them were then exported to France. Yes, a French car was exported from Italy to France.
People really liked the design of the 406 Coupé, and it was praised by car enthusiasts and journalists alike. In terms of looks, the Peugeot 406 Coupé was compared to the BMW Z8, Mercedes-Benz CL 600 and Ferrari 456 GT – significantly more expensive cars. But mechanically it fell short, because of front-wheel-drive and relatively weak engines.
The Peugeot 406 Coupé evolved with the time, but it was never very sporty. Its front wheels were driven by a 2.0 or 2.2 liter 4-cylinder or a new 3.0 liter V6. A little later, the 2.2-liter HDi diesel option was introduced. The fastest 406 Coupé has a 210 hp V6 engine and a manual gearbox – it reaches 100 km/h in 7.8 seconds and with enough room would accelerate to 240 km/h.

The later Peugeot 407 also had a coupe version, but it was not as memorable and popular. Maybe because Pininfarina didn't get their pencils onto it.