Thrift shopping can be quite an experience: you might find the perfect outfit to include in your wardrobe, or you might end up disappointed after searching for hours and only finding outdated and unnattractive clothes. But some people are employing their sewing skills in transforming the old and boring into cute and tasteful pieces. Sarah Tyau is one of them. Through her posts and videos, she gives sewing tips and ideas to help you refresh your wardrobe without spending much.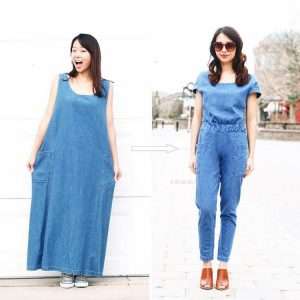 Sarah and her husband started a blog in 2010 to share their new parents experience. Three years later, Sarah decided to include her sewing in the blog, and a few months ago also started a Youtube channel to show her wardrobe transformations. Baggy, unappealing, plain… none of these words seems to stop her. A big fan of thrift shopping, she is able to give a fresh and fitting appearance to clothes that would otherwise make us run in the opposite direction.
Being a mother of three, Sarah also presents us with great alteration possibilities for children's clothes. Considering how fast kids grow and outgrow their wardrobe, it is always good to have affordable options in hand. Have an old shirt forgotten in some corner? No problem, with some sewing tricks – that Sarah happily shares with all of us – you can turn it into an adorable dress for a little girl.
So it is time to actually spring clean your wardrobe and maybe give a new look to some abandoned pieces. And if you do take Sarah's work as an inspiration and refashion your clothes, do write us to tell your story.