Volkswagen is one of the biggest names in automative industry. Volkswagen cars are sold everywhere and everyone knows them. However, you've probably have never seen this one – EA489 Basistransporter is now one of the rarest Volkswagen vehicles in the world.
We told you about the Plattenwagen – Käfer-based light truck. It is also a very rare vehicle, but the difference is that Plattenwagen was never sold to general population. Basistransporter was and yet almost all of them have perished in the unforgiving claws of time.
Volkswagen EA489 Basistransporter, manufactured in 1975-1979, was an extremely simple little truck. In fact, it was designed to be as cheap as possible to buy and maintain. At that time vehicles like this were very popular in a large part of the World. High oil prices and unstable economy fueled the demand for cheap light utility trucks and the market leaders delivered  –  Toyota, Ford, General Motors and several other major manufacturers introduced new basic utility vehicles. And so Volkswagen jumped on the opportunity.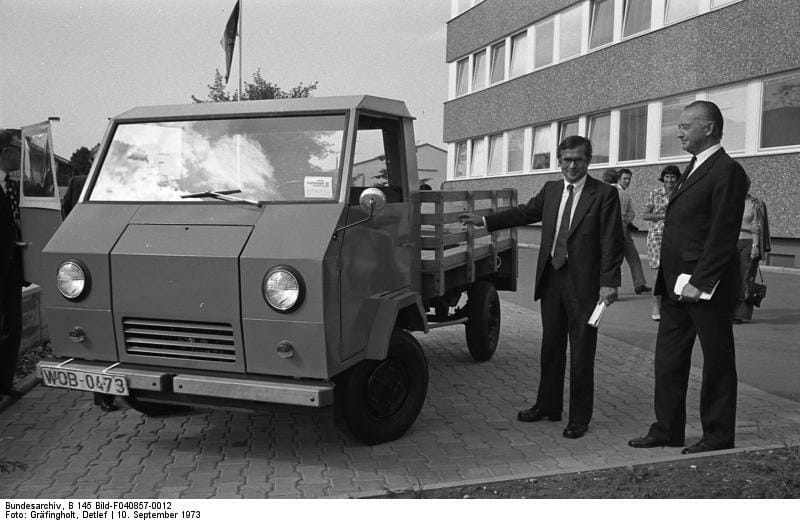 The Basistransporter was created for the developing countries. In fact, it is likely you've never even heard the name "Basistransporter", but maybe you know Volkswagen Hormiga? It is the exact same truck – Hormiga ("Ant") name was adopted in Mexico. Meanwhile in Turkey Basistransporter was sold as just EA489, in the Philippines as the Trakbayan ("Country Truck"), and in Indonesia as the Mitra ("Partner"). Interestingly, Mitra was not identical to original Basistransporter – it had the cowl of a Volkswagen Type 2 and was a little bit faster.
A Finnish company Wihuri Group also made a Basistransporter-based truck, called Teijo. About 200 were made, some of them were sent to Africa as foreign aid. Meanwhile in the main factory in Hanover Volkswagen produced 2,600 trucks as knock-down kits for assembly in other countries. Another 3,600 was produced in Mexico. And this is why Basistransporter is one of the rarest Volkswagen vehicle today – not many were produced and most of them were worked really hard. No one really protects these light trucks – they are workhorses. And when they couldn't go anymore, they were scraped. Today only several are surviving in private hands or as museum pieces.
As you might imagine, Volkswagen EA489 Basistransporter was powered by an air-cooled 1.6 litre engine, pushing out 50 hp (37 kW). It was coupled to a 4-speed manual transmission and by driving front wheels it could propel the truck to 85 km/h (Indonesian Mitra somehow achieved 93 km/h). That kind of speed is actually incredible for a truck like this, but you have to remember – it is the size of a modern Volkswagen Polo. Its length – just 4,1, width – 1,7, height – around 2 metres. Empty Basistransporter weighed just 1,29 tonnes. Manufacturer promised that Basistransporter can carry 1,000 kg on its cargo bed.
You can tell that Volkswagen EA489 Basistransporter was very cheap – just look at its body lines. But it is still a rather interesting vehicle, which helped thousands of people to work during those difficult times.
Other interesting machines:
Volkswagen Plattenwagen – one of the earliest Volkswagen vehicles;
What is this tractor doing in the middle of a flower field?
Why Challenger Terra Gator TG 8333 has just three wheels?
Electric trucks are far from new – they were delivering goods a hundrend years ago;
Scammel Scarab – it is not your ordinary semi-truck – it is the mechanical horse;
Goliath GD 750 – three-wheeler truck with a tiny engine was more useful than it looks;
General Motors Bison – a vision of trucks of the future from 1964. Why didn't it stick?