JAWA is a well-known motorcycle manufacturer, founded in Prague, Czechoslovakia, in 1929. This year it is celebrating its 90th anniversary and brand's fans all over the world are organizing meets, trips and other events. However, one JAWA's creation is not going to be participating in any of them – the only surviving JAWA 750 is residing in National Technical Museum in Prague.
JAWA was founded by a Czech businessman and inventor František Janeček. He bought a motorcycle division of  a German company Wanderer and immediately started making affordable motorcycles called JAWA (JAneček and WAnderer). At some points in its history JAWA was hugely successful, exporting its motorcycles to more than 120 countries. However, the company found itself on the edge of bankruptcy several times and nowadays JAWA-branded motorcycles are manufactured in India.
Although JAWA has a lot of fans in many countries, few of them know that JAWA was once a manufacturer of automobiles as well. Janeček always wanted to make cars and was looking for ways to do that. In 1933 he signed a license agreement with Jørgen Skafte Rasmussen of DKW, which allowed him allowed him to make JAWA 700,  based on the DKW F2. 1,002 of these cars have been produced between 1934 and 1937, when 700 was replaced by a brand new 600 Minor. This car reached production levels of over 14 thousand with around half of these cars being exported. However, in 1946 JAWA 600 Minor has been replaced by Aero Minor – a car that did not wear JAWA's badge.
But let's come back to 1935. JAWA wanted to participate in the famous 1000 miles Czechoslovakia race. In fact, JAWA was supposed to be participating even a year before, but its modified 700 simply wasn't reliable enough. This time JAWA made 6 cars – three roadsters and three coupes to take part and eventually win the race. And what a car the 750 was!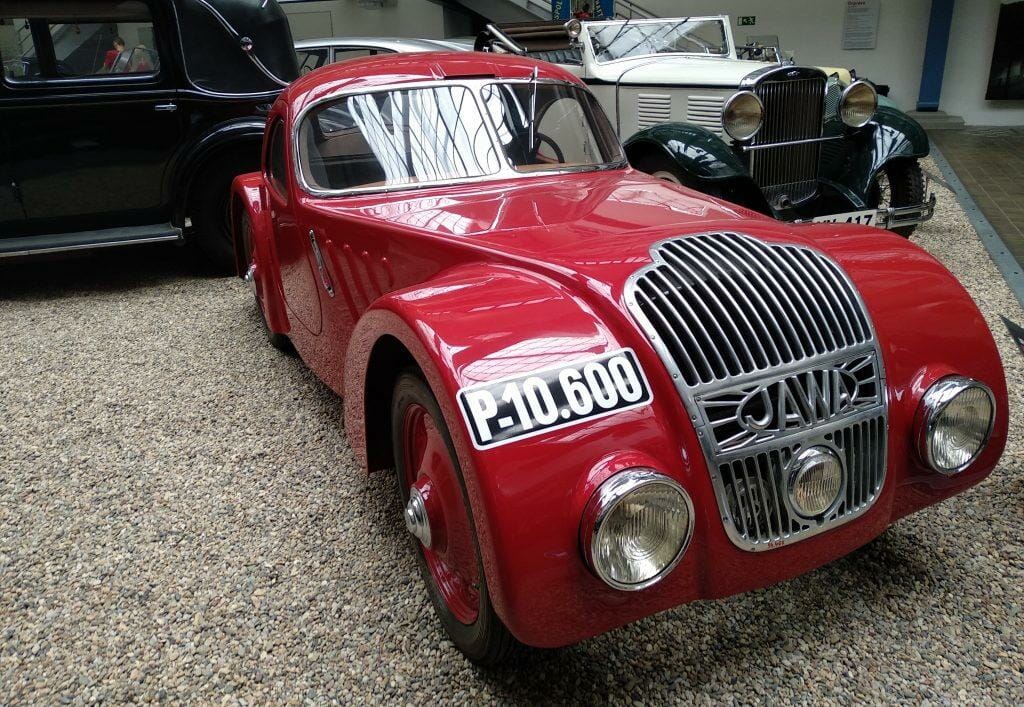 It may not show in the pictures, but JAWA 750 is rather small – it is only 3650 mm long and very narrow. Its body is made from sheet metal, formed around a wooden frame. Aerodynamic shape is pleasing to the eye and a bit Bugatti-esque. Being as slippery as possible was so important that JAWA 750 didn't even have mirrors or door handles. Keeping the weight down was crucial too, which is why this car has only one windscreen wiper. Coupe JAWA 750 weighed only 705 kg – roadster version – 5 kg less.
All these efforts were put into this car in order to compensate for its rather weak 750 cc twin-cylinder two-stroke water-cooled engine, producing just 26 bhp. This minute powerplant was driving the front wheels through a 3-speed transmission. And boy, was it fast – its top speed was 120 km/h, while the average speed during the race reached 83,7 km/h – totally enough to win!
Not only JAWA 750 won the 1000 miles Czechoslovakia race in its class, it occupied the entire podium! This was enough to grant the President's award for the most successful team. However, JAWA could not repeat this achievement.
Due to poor economic situation, 1000 miles Czechoslovakia race did not come back the next year. JAWA continued being involved in racing, but this time with its motorcycles. Surviving JAWA 750 models fell into the hands of private users and majority of them perished in rust. The only surviving example came into the hands of the National Technical Museum in Prague in 1992. In 2005, 70 years after its legendary triumph, the restored JAWA 750 was revealed to museum's visitors.
Also read:
Plattenwagen – an old Volkswagen you've probably never heard of;
Goliath GD 750 – three-wheeler truck with a tiny engine was more useful than it looks;
Reliant TW9 – an Ant, which was useful pretty much everywhere;
Scammel Scarab – it is not your ordinary semi-truck – it is the mechanical horse.