Double-decker buses have some disadvantages. A higher center of gravity worsens their stability in corner and some lower bridges is a problem for them. However, double-decker buses do have many advantages – in 1984 Neoplan created the shortest double-decker bus in the world for a reason.
Neoplan is a German bus manufacturer, founded in 1935. It is currently a member of the MAN group. Neoplan is famous for its double-deckers, but most of them are quite large. Not this one though.
Japan needs a short double-decker bus
The Neoplan Skyliner line of double-decker buses, revealed in 1964 and produced since 1967, was quite innovative. They were very efficient, their operating costs were low and passengers loved them for their comfort.
The first Neoplan Skyliner buses reached Japan in 1978. They were a little bit different from the buses in Europe – Neoplan made sure that the maximum height of the buses made for Japan did not exceed 3.8 meters, that they had several emergency exits and that the steering wheels were on the right side of the cab. These were not great engineering challenges and the Japanese were very quick to enjoy the spacious Neoplan buses. Having entered Japan with one foot, Neoplan soon entered with the other, equipping buses for the Far East market with locally produced engines so that local craftsmen could service and repair them without waiting for parts from far away.
Albrecht Auwärter, the head of Neoplan and the eldest son of the company's founder, went to Japan in 1984, where he learned that special permits are not required for buses up to 9 meters long. This made them cheaper and more practical to operate, but being very short, these buses were cramped and held few passengers. Auwärter came up with an idea – he instructed his engineers to modify the Neoplan Clubliner N 122/2 to meet Japanese requirements and be a tinny little bit shorter than 9 meters in length.
A normal standard Clubliner N 122/2 was 10.7 meters long, but Neoplan engineers shortened it to 9 meters quite easily. Technically, Clubliners had two decks, but the lower one was just a lounge area (with a toilet, coffee machine, etc.) and a luggage compartment. But after modifications the lower deck was made to seat passengers. In just three months Neoplan completed this transformation – a 10.7 meter Clubliner became the first 9-meter long Skyliner N122/2. The design was further refined and soon Neoplan produced 50 of these buses for Japan. According to Neoplan, this is the shortest series-produced double-decker bus in the world.
The shortest Skyliner double-decker has two axles – one fewer than its larger brothers (again, because it's made from a Clubliner). It can carry up to 40 passengers.
The length of 9 meters was suitable for a double-decker bus in Japan not only because of local technical requirements for buses, but also because of narrow, winding roads and crowded cities.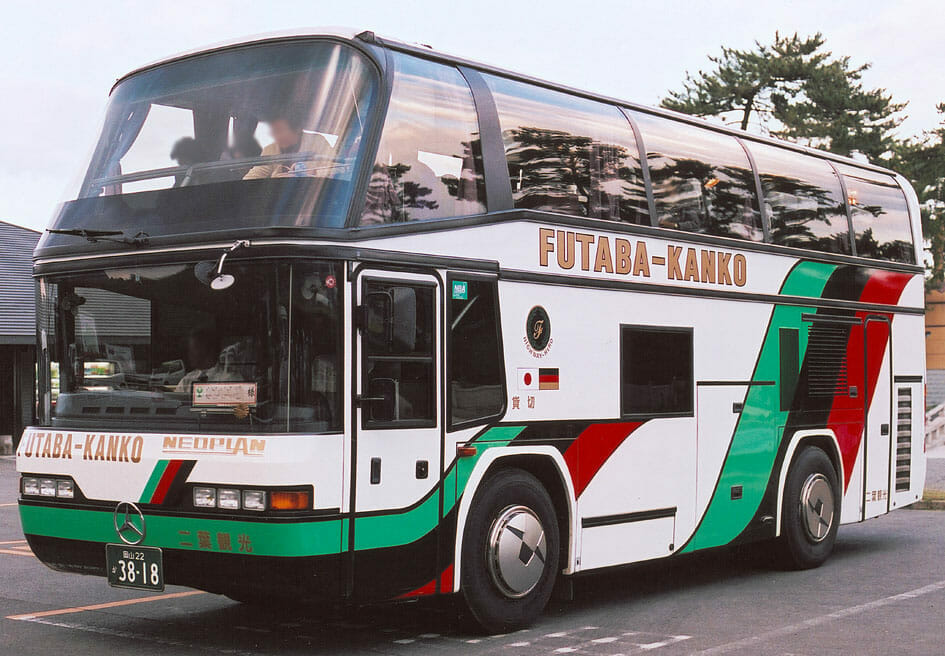 Although those short Skyliner double-deckers were a mid-1980s invention, at least a few were running in Japan until recently. If you visit Japan now, you may still see one.