You probably remember the little blue three-wheeler van that constantly had to deal with trouble caused by Mr. Bean. Well, it had a tougher brother in a shape of Reliant TW9. This truck, commonly known as the Ant, was a small three-wheeler pickup, which was very useful in a variety of applications.
Reliant was famous British manufacturer of small cars, most of which had only three wheels. Reliant Ant was a little different in a way, because it was a truck rather than a car. It had three wheels, but that didn't get in its way of finding work in many different areas.
TW9 was introduced in 1967. It was a small pickup truck with one wheel in the front and a normal driven axle at the rear. It had a decently strong steel frame with a fiberglass cabin for two people. At first, Ant was equipped with a 700 cc engine, producing 27.5 bhp (20 kW) of power, but in 1972 a new 748 cc engine, making 32 bhp (23.5 kW), was introduced. The improvement was welcomed, because Reliant Ant was very slow and didn't like carrying heavier loads. In 1975 Reliant started putting its 850 cc engine in the Ant, which had 45 hp (33.6 kW).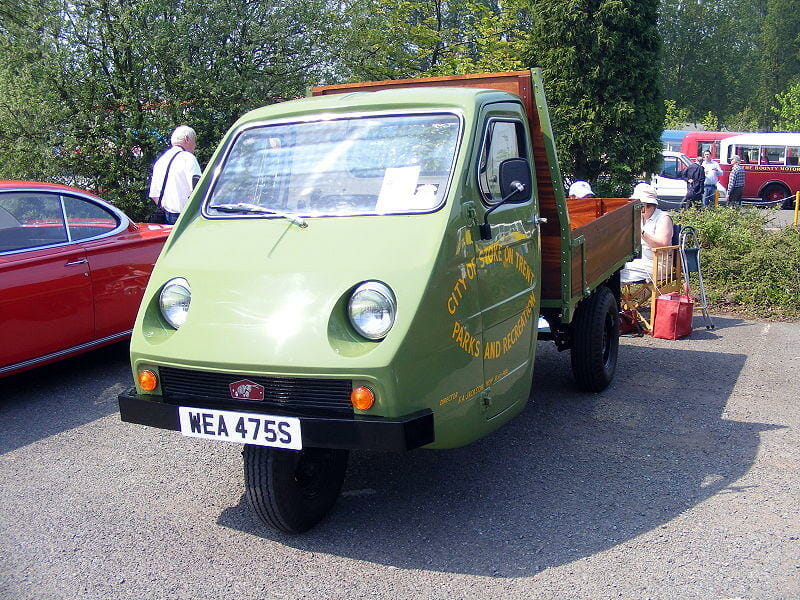 Interestingly, RHD and LHD Ant's were different. TW9 meant for the domestic market had a loading capacity of 800 kg, even though it really didn't like that sort of weight on its back. Councils in England, Wales and Scotland bought large amounts of Reliant Ant's and used them in a variety of applications.
The chassis and cabin was said to cost £451. They were carrying water tanks, pushing snow plows, worked as refuse trucks and much more. People still remember Reliant Ant working as a road sweeper, while companies enjoyed tipper, van and fixed flatbed versions. Probably the most unusual looking is the Ant with a fifth wheel – in this configuration it was one of the weirdest semi-trucks in the world. Surely, the trailer had to be light, but they said that Reliant Ant could pull more than it could carry on its frame.
Meanwhile LHD version was mostly aimed at the Mediterranean region, where it was set to compete against Piaggio's three-wheelers. LHD Ant could carry only 500 kg worth of cargo, but that was a much more comfortable weight for the tiny engine anyway. Eventually Greek company MEBEA started building these trucks under licence.
Reliant finished production of the TW9 in 1987 – it was manufactured there for 20 years. However, some other companies continued making the Ant under licence until 1995. Eventually businesses started using larger, more powerful trucks and delivery vans. Reliant Ant was not very durable or fast, which eventually caused it to go out of production. Now people are actually looking to buy Reliant Ant's – enthusiasts see them as fun restoration projects and even turn them into fun-looking camper vans.
Also read:
Scammel Scarab – it is not your ordinary semi-truck – it is the mechanical horse;
Goliath GD 750 – three-wheeler truck with a tiny engine was more useful than it looks;
General Motors Bison – a vision of trucks of the future from 1964. Why didn't it stick?