Egon Brütsch Fahrzeugbau, commonly known as just Brütsch, is just another historic German car manufacturer. However, it was special in its own way, because it only created designs of  fiberglass microcar roadsters, mostly to licence them to other manufacturers. In its short history Brütsch made several interesting tiny cars, but one stands out as the smallest. How does 2.5 litres of fuel for a 100 km sound for you?
Company's first car was Brütsch 200. It was a tiny three wheeled roadster with a single cylinder 191 cc engine and could reach 90 km/h. Brütsch itself didn't make too many of 200's, but it was licenced to a Swiss company A. Grünhut & Co. Brütsch 200 was only manufactured in 1954-1955. After its production life was over, Brütsch introduced another 3-wheeler roadster Zwerg. It was only a two-seater and a little bit slower with a top speed of 85 km/h, but it was more popular. Brütsch made 12 Zwerg cars, several more were manufactured by  Air Tourist Sàrl in France.
In 1955 Brütsch made Zwerg – Einsitzer – a version of Zwerg with a 74 cc engine and a continuously variable transmission. It could only do 75 km/h. Production of Zwerg – Einsitzer stopped in 1956 and Brütsch stopped making Zwerg altogether in 1957. In 1956 the tiniest Brütsch came about – the Mopetta.
It was another three-wheel automobile, but this one had a single seat. Its egg-shaped fiberglass body was extremely aerodynamically efficient, allowing the Mopetta to very little fuel – just 2.5 litres for a 100 km. Of course, this was also courtesy of 49 cc engine. Brütsch Mopetta was created to replace a moped and thus did not have much in a way of luxury or comfort. In fact, it even had moped handle bars instead of a normal automobile steering wheel. The engine had a pull start and an integral three-speed gearbox. Despite it's extremely light 89 kg weight, Mopetta could only reach 35-45 km/h.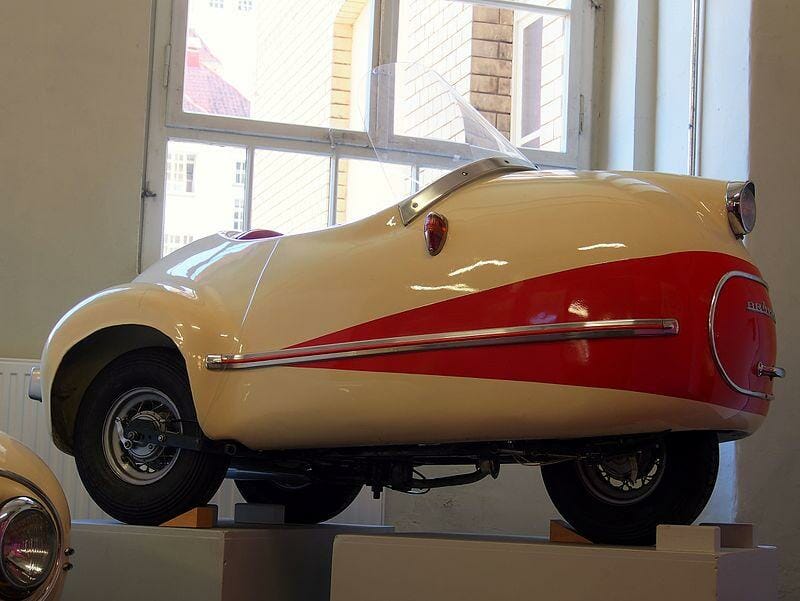 Interestingly enough, Mopetta was not that cheap. It did cost only £200 in UK, but that is equivalent to about 2,200 Euros in today's money. This, and, possibly, impractical design meant that Mopetta did not enjoy huge interest from buyers, although in various car shows it was always very popular. Its cute looks and character were admirable, but Mopetta was slow, difficult to get into and priced too close to a car. Brütsch made 14 Mopettas until 1958 when production was stopped.
Only a handful of Mopettas are still alive, one of them you can see in this video
Brütsch made cars alongside the Mopetta. It was another single seat 3-wheeled Rollera roadster, powered by a 98 cc, two seat 3-wheeled roadster Bussard with a 191 cc engine, 2-seater, 4-wheeled roadster Pfeil with a 386 cc and another 2-seater, 4-wheeled roadster V2, powered by either 98, 247 or a 479 cc engine. However, none of these cars were as popular as the Mopetta and Brütsch went out of production in 1958.
Brütsch Mopetta started gaining popularity only after its production life was over. Brütsch tried striking a deal with Opel to sell Mopettas in its dealer network, but it didn't go anywhere. Now you can only buy replicas, which are pretty good, or some other vehicles that look a little bit like the Mopetta. For example, Randy Grubb  makes Decopods, but it is unknown if he would still make some for sale.