If you like old machinery, you might have noticed that some old tractors have odd front axles – they are so narrow that front wheels are hilariously close together. The triangle construction of these tractors was so weird that they might as well be three-wheelers. But why manufacturers used that kind of configuration? What advantages did it have?
Narrow front axles made for less stable tractors, compared to more conventional designs. However, tractors are never cornering that hard for that to become an issue. Even some modern farming equipment has three wheels only in order to spread the contact patch and minimize soil compaction.
This triangle tractor configuration became more popular in 1924, when International Harvester introduced the Farmall brand. Farmall tractors were more versatile, general purpose machinery while older equipment was very specialized and could only be used for very particular tasks. However, narrow front axles or even actual three-wheeled tractors were being produced way before the introduction of Farmall.
The old steam traction engines had more or less conventional-looking chassis. However, first tractors with internal combustion engines often had just three wheels. But it was definitely Farmall, who popularized this design and made it spread across the United States tractor industry.
Of course, the most important question is "Why". Why such an odd and seemingly unstable design became so popular?
You have to remember that the first half of the 20th century in agriculture was a bit of a transition period. Many farms were using horse-drawn machinery for some jobs and tractors for the others. This meant that tractors had to work fields that were laid out by horses. An extremely narrow front axle and separate brakes in rear wheels made Farmall tractors highly manoeuvrable. You could press the right side brake, turn the steering wheel all the way to the right and the tractor would turn around on a dime. This allowed manoeuvering in more constricted places, while maximizing the area of workable land.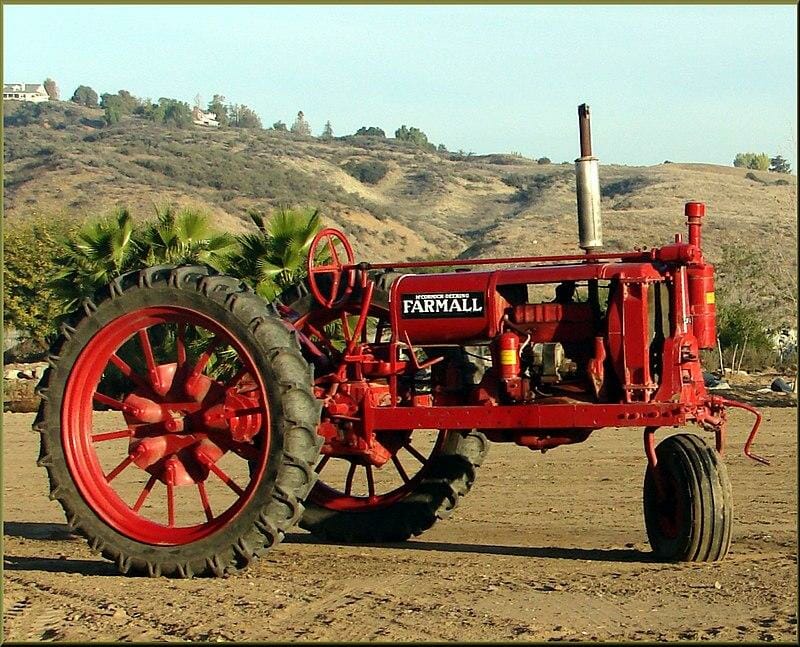 Furthermore, although Farmall was a really versatile machine, it felt at home in fields that were organized in rows – it was an ideal tractor for vegetable gardens and cotton fields. Narrow front axle with wheels standing in a "V" configuration sort of fell in a row or a furrow (small irrigation ditch) and helped the operator keeping the tractor tracking straight. It was also less likely to damage the plants.
Also, back then there was no power steering and narrow front axle provided less resistance on the steering wheel. This made the tractor a little bit less fatiguing to use, which may sound like a minor comfort feature, but during harvest or soil preparation these tractors were used for hours and hours without rest. A lighter steering wheel did make a difference.
Finally, some implements also took advantage of that narrow front axle. Various cultivators and even harvesters could be mounted on the side and underneath the tractor, without worrying about the placement of the front wheels. Farmall and other tractors often had power take-offs – flat pulleys that allowed powering some stationary equipment. It worked better when there was no wide front axle that could get in the way of the belt.
Narrow front axles made their way into the '70s, but at that point they were mostly redundant. Most farms and fields were already well-adapted to tractors with larger turning circles and power steering eventually became more common. Some farmers still use this triangle chassis configuration because it compacts ground less, but they have to modify their tractors themselves.
Look at this heavily modified Valtra T171 Advance
Some tractor manufacturers are still making triangle-shaped machines. For example, Minsk Tractor Works (MTZ), Belarusian company, still offers Belarus 80X and 100X, both of which have one front wheel and are designed for work in cotton fields.
Other interesting articles:
Why Challenger Terra Gator TG 8333 has just three wheels?
What is this old IH harvester doing in a field of flowers?
Why cars used to have whitewall tires?
Electric trucks are far from new – they were delivering goods a hundrend years ago;
Scammel Scarab – it is not your ordinary semi-truck – it is the mechanical horse;
Goliath GD 750 – three-wheeler truck with a tiny engine was more useful than it looks;
General Motors Bison – a vision of trucks of the future from 1964. Why didn't it stick?