Peugeot – a famous French automaker and a part of one of the biggest car corporations in the world. A famous lion logo marks several models that are particularly popular in Europe, but the company is striving to become truly global in the near future. Peugeot brand has a long history, but do you really know everything about it? In this article we list 7 facts about Peugeot that you might not know.

Unexpected origins of the car maker. Peugeot company was founded in 1810 – it is much older than other mainstream car manufacturers. However, it did not make cars for a long time. At first Peugeot was making coffee bean, pepper and salt mills and later – bicycles too. The first Peugeot car, horribly unreliable steam-powered three-wheeler, came out only 1889. Only four where made. Later Peugeot started using Daimler's internal combustion engines, until in 1896 first Peugeot engines were created.
Peugeot won the first competitive motoring event. The first car race ever recorded was Paris to Rouen in 1894. There were some rules – cars had to be not dangerous, easy to drive, and cheap during the journey. "Easy to drive" basically meant that steam cars were not eligible to win. Albert Lemaître took the victory with his 3 hp Peugeot Type 7, although steam-powered De Dion-Bouton arrived before him. It took 6 hours 51 minutes 30 seconds for Lemaître and three of his passengers to reach the finish line in just 206 km race, but it is counting 1 hour and 30 minutes when he stopped to rest and to have lunch.
First car ever stolen was Peugeot. Well, there is nothing to be proud about making the car that was the first to be stolen, but maybe that means that Peugeot cars were desirable? This happened in 1896 in Paris, when Peugeot of Baron de Zuylen was stolen by his mechanic. Sure enough, thief was caught and car was returned to its owner.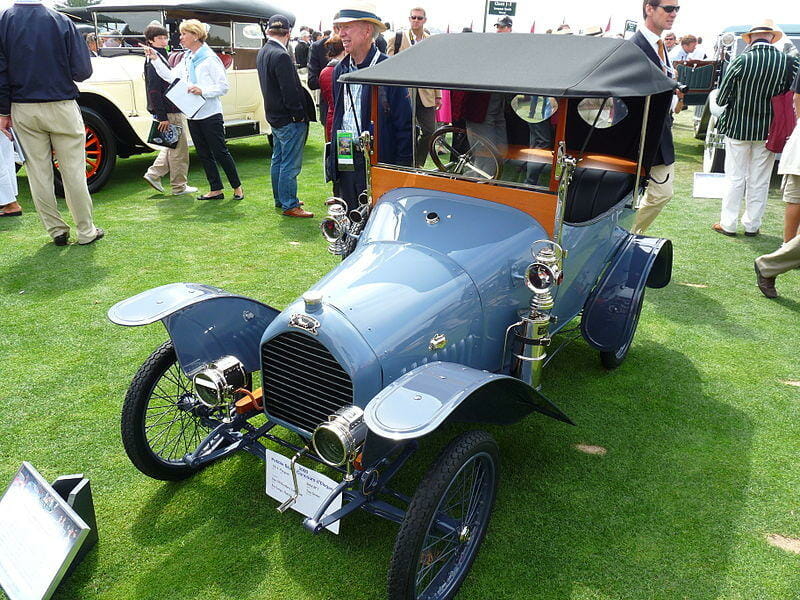 Bugatti and Peugeot. Ettore Bugatti is a name we don't have to introduce to automotive enthusiasts. He was the man, who created the famous Bugatti brand, which up until this day produces the fastest cars in the world. In 1912 Ettore Bugatti designed Peugeot Bébé with 850 cc four cylinder engine. You can definitely see Bugatti's hand in the design.
Peugeot and Formula 1. Ok, so not everything went exactly as expected in Peugeot's history. Brand tried stepping into Formula 1 and produced engines for several teams in 1995-2000 seasons. However, Peugeot engines proved unreliable and not as capable as those of other manufacturers. Peugeot pulled out of the game without getting a single victory.
More successful sport endeavours. Peugeot did achieve some respectable victories in car racing. There are three victories in 24 Hours of Le Mans, six victories in Dakar rally, four victories in World Rally Championship, three victories in Pikes Peak International Hill Climb and many more in Peugeot's record. Also, Peugeot made very impressive hot hatches, so you really can't blame this brand for not being passionate enough about performance and driving enjoyment.

Peugeot cars of 1950s and 1960s are known for their reliability. Nowadays people complain about Peugeots not being as reliable as some other cars. However, in some places Peugeot is actually famous for its reliability and ruggedness. Manu Peugeot cars from 1950s and 1960s are still being used in Africa, Cuba and other places in the world.
Peugeot is growing stronger. The brand is trying to become truly global, to expand to new markets. It is said that when this goal is achieved we will see more exciting Peugeot sports cars.