Poland is not famous for its automotive industry, which is why many people are surprised to learn about all interesting cars made in this country. A lot of them were created by FSO (Fabryka Samochodów Osobowych), which worked in Warsaw from 1948 till 2011. By far, the most Polish car ever also came from the works of FSO – just look at the shapes of FSO Syrena Sport! Too bad it was mindlessly destroyed.
Syrena sedan was actually the second car ever created by FSO. First prototype were presented in 1953, but production started only in 1957. It was a simple and reliable car, which made it very popular in Poland. It also opened up the arms of FSO engineers to have some fun.
FSO engineers back in 1957-1960 were getting busy with their special project, designed by Cezary Nawrot. It was a sports car prototype, meant to test a number of solutions and production technologies that could be incorporated in Syrena sedan. Of course, this testbed didn't have to be a beautiful sports car, but why not? Nawrot decided to have some fun with its design, especially knowing that it will never be manufactured on a bigger scale.
When designing Syrena Sport, Nawrot looked for inspiration in cars from the other side of the Iron Curtain. He later admitted taking some details from several Ferrari models, Mercedes-Benz 190SL, probably Chevrolet Corvette and some other popular cars. And you can definitely see them in the design of the Syrena Sport, but it is still a uniquely beautiful little car. It's body is made from fibreglass and the engine is tiny, which is why FSO Syrena Sport prototype weighed only 710 kilogrammes.
It was Nawrot's best design and he hated the idea that a 2-stroke 2-cylinder S-15 engine from Syrena sedan could be rattling under the bonnet of his Syrena Sport. But he found a way to avoid that – Nawrot made the bonnet of the new car so low that the old S15 simply didn't fit.
Instead, a completely new air-cooled 0.7 liter 4-stroke flat-twin S16 engine was developed and fitted in this car. Some of the auxiliaries were taken from Panhard Dyna Z. Syrena Sport used a 4 speed manual transmission and was front-wheel-drive, which is unusual for a sports car, but the engine wasn't that sporty either. Although it was planned that the S16 will push around 50 bhp, but the first prototype developed around 35 bhp. However, Syrena Sport was pretty good in the corners, courtesy of its new independent rear suspension.

FSO Syrena Sport made its public debut on on the Labour Day (May 1st) 1960 and instantly became an international sensation. An Italian newspaper "Il Giorno" called the Syrena Sport "the most beautiful car built behind the Iron Curtain". Everyone knew that Syrena Sport is only a prototype with no ambitions for production, but people were so impressed by the design that they started demanding that the car would be produced. Everyone was pressuring FSO and Polish Government, but it was not meant to be.
Some original footage showing FSO Syrena Sport in action
Being on the wrong side of the Iron Curtain, Poland was a communist country. FSO Syrena Sport was not the sort of car communists would approve. It was too bold and not compatible with a regular working man of the country. The story goes that someone from the government contacted FSO and ordered an immediate end of the program. At that time Syrena Sport had 29000 km on the clock and had to be stored away.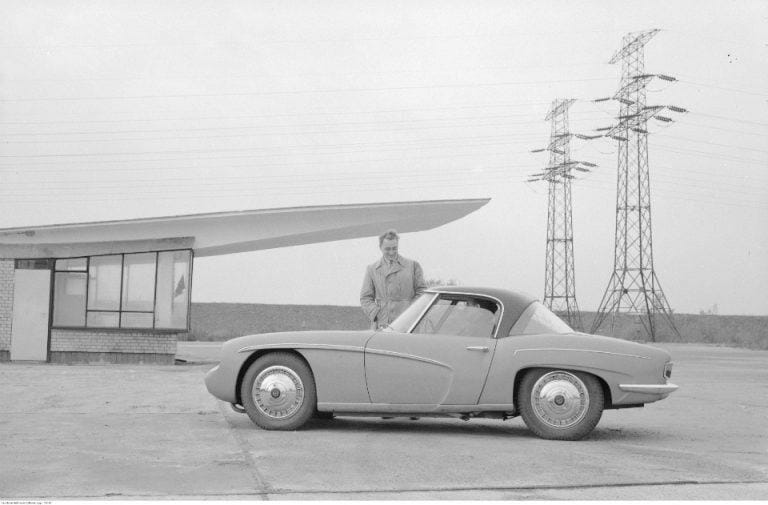 This story could have had a happy ending. Communism ends in 1989 and Syrena Sport reemerges from FSO's storage – wouldn't that be nice? However, there was no happy ending for Syrena Sport. Some time in 1970's the only FSO Syrena Sport was destroyed alongside some other prototypes. Motif – a lack of space in the garage. No actual plans survived either, but some replicas later were created from some black and white pictures.
Read about other fantastic cars:
Volkswagen brings old Beeltes to 21st century – meet the electric eKäfer;
JAWA 750 – did you know JAWA made cars?
Brütsch Mopetta – glorious egg-shaped microcar from 1950's;
7 interesting facts about BMW E30;
What happened to pop-up headlights?