BMW 3-series E30 is kind of a weird car. While it is not rare or particularly beautiful, many car enthusiasts are craving to get their hand on one. Martynas is one of them and currently, while you are reading this article, he is working on making something that will turn out to be his dream car. And we will follow him on every step of the process.
While E30 is not a rare exotic car, enthusiasts like Martynas like it for how it looks. Its design – straight lines and sharp corners – stand out from the traffic flow in a modern city. Also, it is quite a small car, which seems to be perfectly proportioned. And because it is not rare or historically valuable, you can have fun while restomoding it to perfection. Martynas' E30 will get its uniqueness, which it is lacking now, in the process of restoration.
What is it? It is a 1990 E30 coupe with a 1.8 litre 113 AG (83 kW) engine. During its decades of service, this car was never babied and it reflects in current state of the vehicle.
Current state of Martynas' E30
We have to say, while it is old and crusty, Martynas' E30 is definitely not too far gone. The biggest mechanical faults came from neglect – this car has been left standing outside for some time. However, it does start and drive for a little, although some of its suspension components are in urgent need of replacement. That is not really a concern as Martynas would've redone entire suspension anyway, since he wishes the car sits lower and handles a little bit sportier.
Engine is producing some unpleasant noises. It is probably a faulty compensator, but a major overhaul is needed. Again – nothing too dramatic. Martynas is considering a new engine – something with more power and nicer singing voice. We will see if he fixes this engine and keeps it or replaces it with something more special immediately.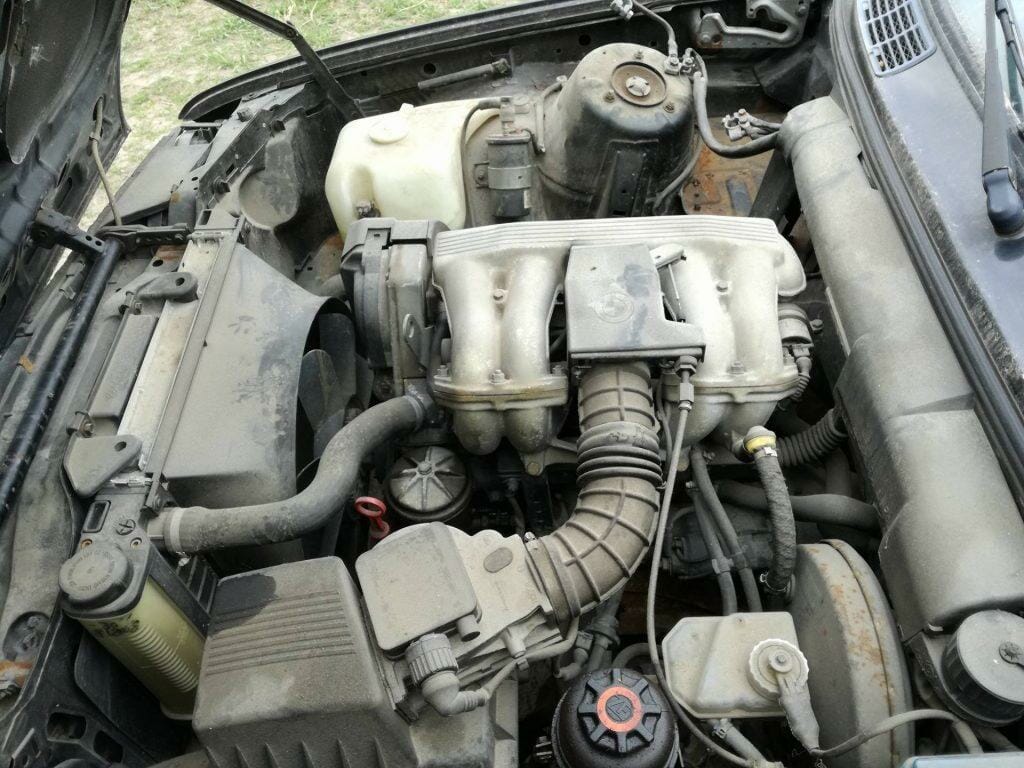 The appearance of the car is a totally different story. Paint is in a pretty bad state, showing a lot of rust on the bottom portion of the body. In fact, the bottom of the car had to be patched up, because some places were completely eaten away by rust. Rust will be healed and the entire car will be repainted in the same colour – black.
Meanwhile interior is quite ugly at this point. Driver's seat is torn to pieces and steering wheel is worn away too. It is a beautiful rim too, from M Division, so it has to be restored and reinstalled.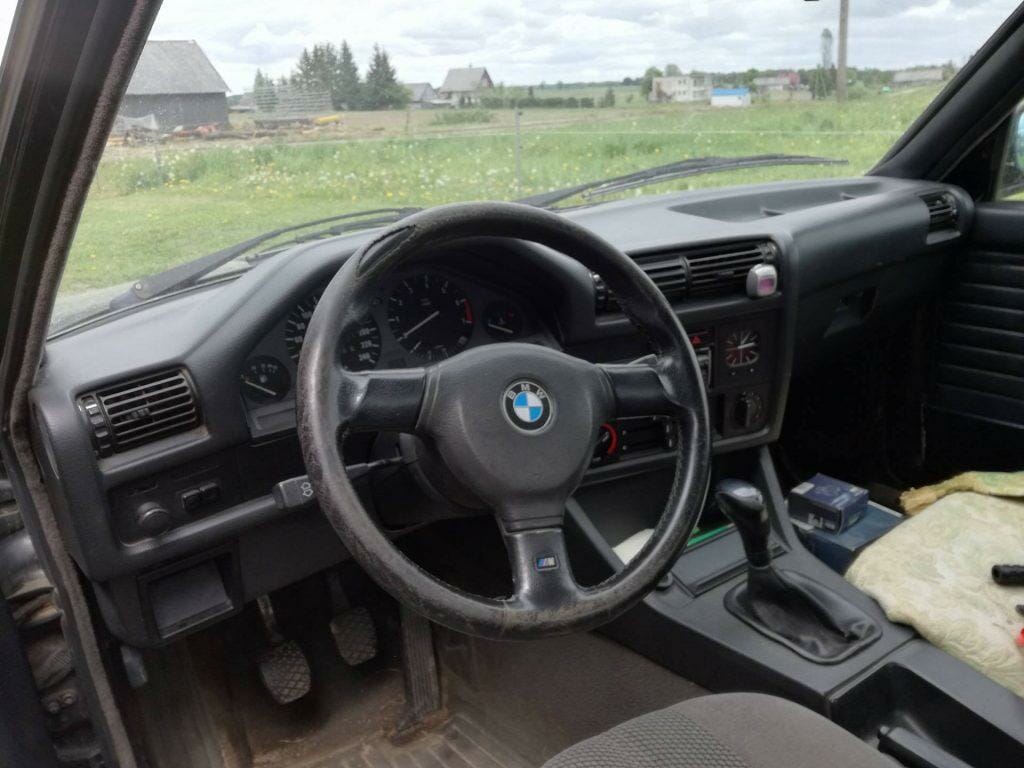 All in all, this car could be quickly up and running after decent fix-up. However, Martynas' vision is a bit different.
Vision
While Martynas, like many other BMW fans out there, likes the lines of the body of the original E30 there is definitely some room for improvement. And, as mentioned earlier, because this car is not original, you get to do whatever you want without the sense of guilt, which comes from ruining a historic artefact. So what Martynas will do?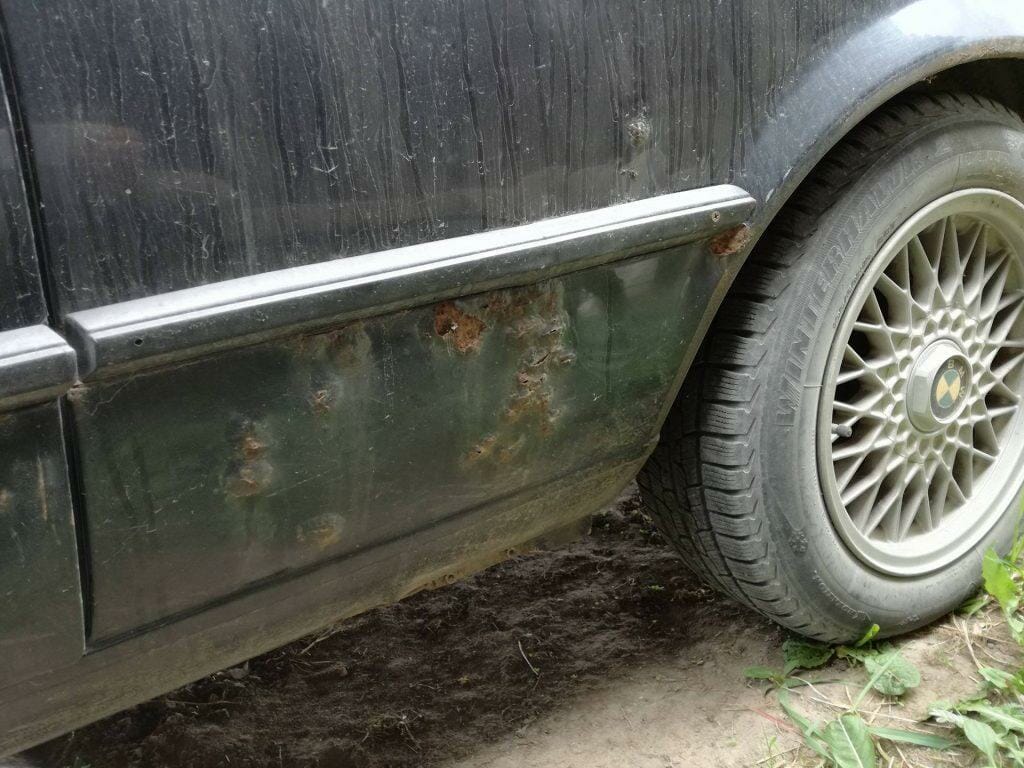 His E30 will wear original BBS rims, will sit closer to the road and will sport a fresh and shiny black paintjob. Wider wheels and lower stance will completely transform the looks of the car – coupe will look athletic and will leave no doubts that it belongs to a car guy. But appearance is just part of the story.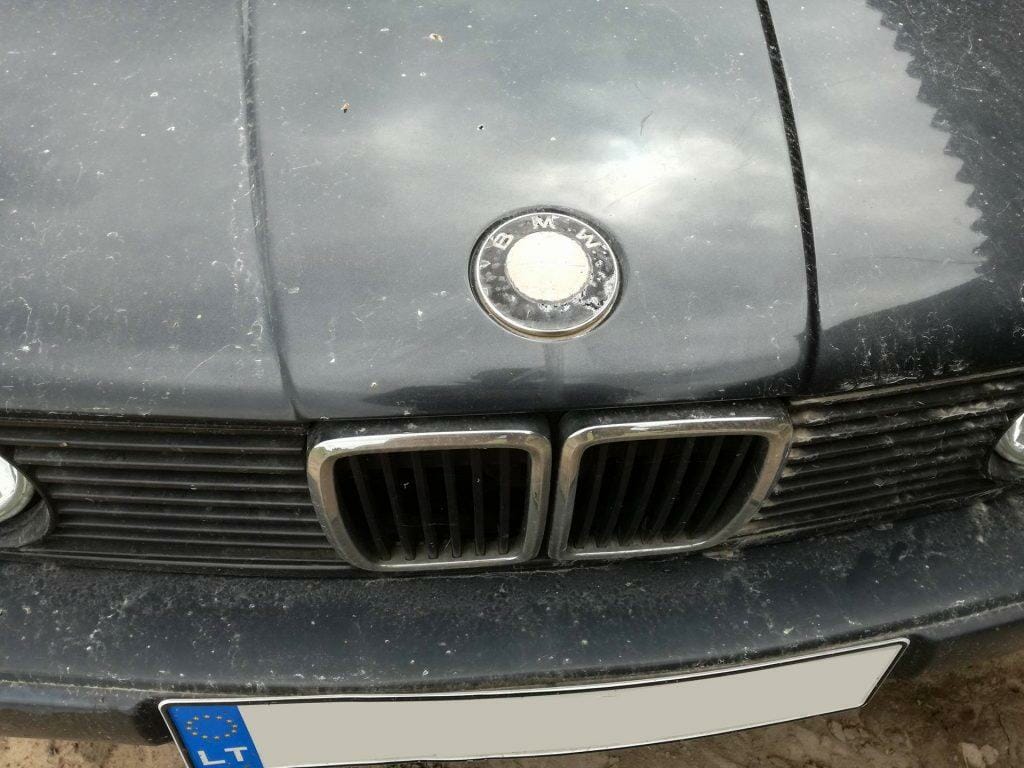 Martynas wants his BMW to be sporty. One of the ways to get more power it to install a new engine, but it is quite a complicated task and there are other options too. Because work on this E30 has already started, Nodum.org will be happy to report, which route Martynas went. What we do know is that exhaust system will be altered significantly, to let E30 breathe easier and sing nicer.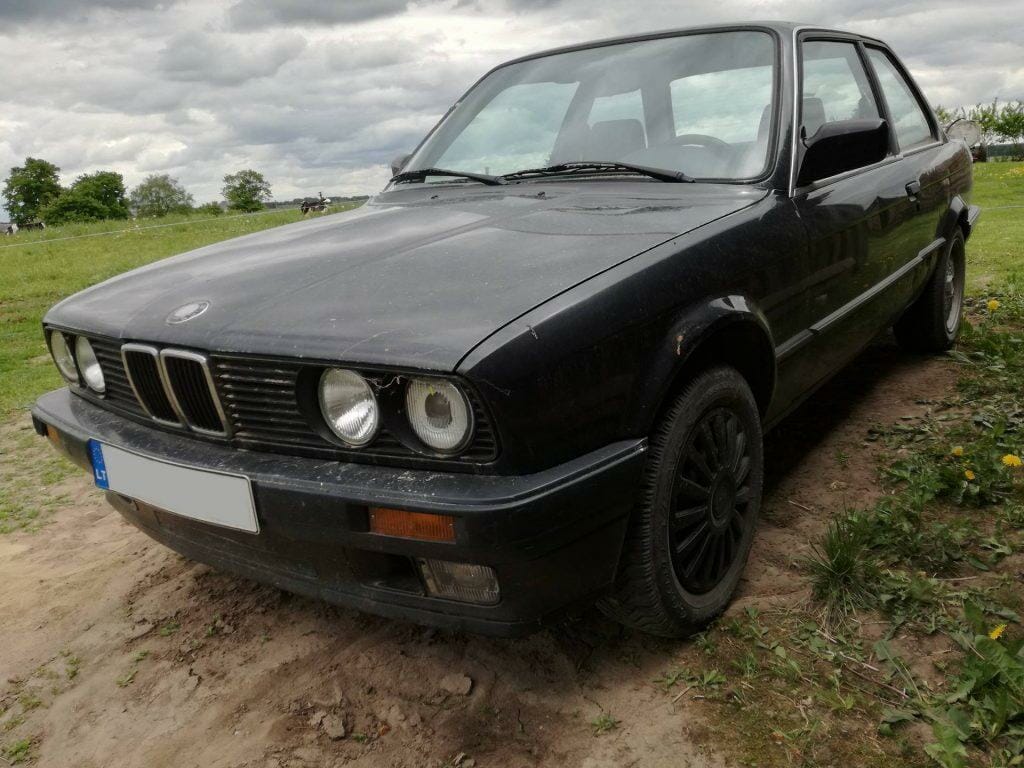 And that's about it as far as we know. It will unravel as it moves along and we will be happy to report on the progress. You may say that there are hundreds of E30's with BBS rims, lowered stance and loud engine note, but we think Martynas' one is going to be just that little bit special. And it is always interesting to see restomoding projects.