Volkswagen is one of the biggest automotive companies in the world and it has millions of fans, who adore the long history of the brand. Everyone knows that the beginings of Volkswagen were the Käfer (better known as Beetle) and the legendary Type 2 minivan. However, aren't we missing something? There was also a car called the Plattenwagen, which would appear on the timeline in between the Beetle and the Type 2,
Volkswagen's history is actually quite simple. Käfer was conceived before the WW2. It was meant to become the car for the masses. Cheap, practical and a genuinely good way to travel – Käfer was bound to be a huge hit. However, the WW2 changed these plans dramatically. Instead of mass production of the new car, entire industry was employed to manufacture guns and military vehicles. And so instead of the Käfer the world saw a military off-roader Kübelwagen and an amphibian version of it named Schwimmwagen. However, once the war was over, Käfer was pushed into production and onto its global success. But there was another special little Volkswagen that helped making these little Beetles.
Meet the Plattenwagen – Käfer-based light truck. You have probably never seen one, because it was actually never sold to general public. Volkswagen built the Plattenwagen for itself – it was meant to distribute various parts inside the factory. And that's what it did – workers would load heavy engines, transmissions and other car components into its front loadbed and the Plattenwagen would be on its way to the other end of the factory where these parts would be installed. Because of how utilitarian and primitive the Plattenwagen was no one even though of making them for sale – who needs a bizarre backwards pickup truck thing? But for Volkswagen factory in Wolfsburg it was a very useful tool.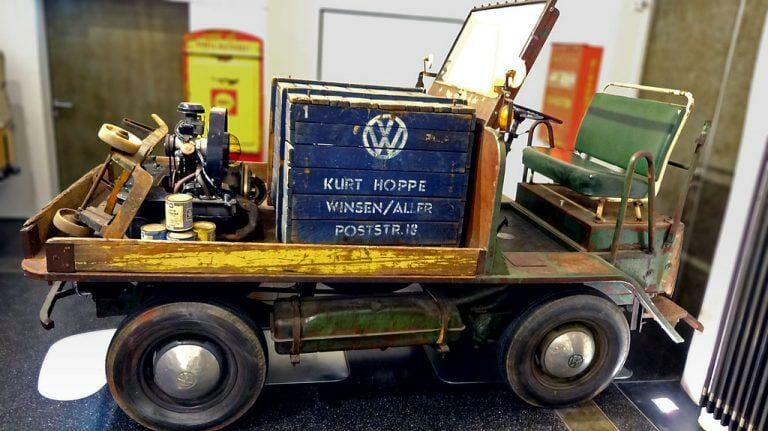 Plattenwagen was based on Käfer's platform, but featured a somewhat weird layout. Its open cabin was situated right above the air-cooled engine. It had two separate seats or one bench. Just like the Käfer, Plattenwagen was rear-wheel-drive and had a simple manual gearbox. Its frame was a bit stronger than Käfer's – it was constructed from heavy steel pipes, which were strong enough to support a huge load of cargo in the front.
Plattenwagen's wheels were significantly larger as well and between the axles there was a big fuel tank. Even though Plattenwagen was not intended to be driven on public roads, it had a proper windshield wiper, headlights and side mirrors. In fact, some Plattenwagens even had a fully enclosed cabin protecting drivers from the rain, but the list of comfort features pretty much stopped there. The loadbed had simple wooden sideboards meant to prevent things from sliding and falling on the ground.
For what it was Plattenwagen was quite quick and manoeuvrable. In fact, when a Dutch importer of Volkswagen cars Ben Pon visited the Wolfsburg factory in 1947 he immediately got inspired by Plattenwagen's performance. He quickly sketched a new commercial vehicle, which could benefit not only Volkswagen's factories, but also farmers and small businesses across the world. This simple sketch was the beginning of the history of the Type 2.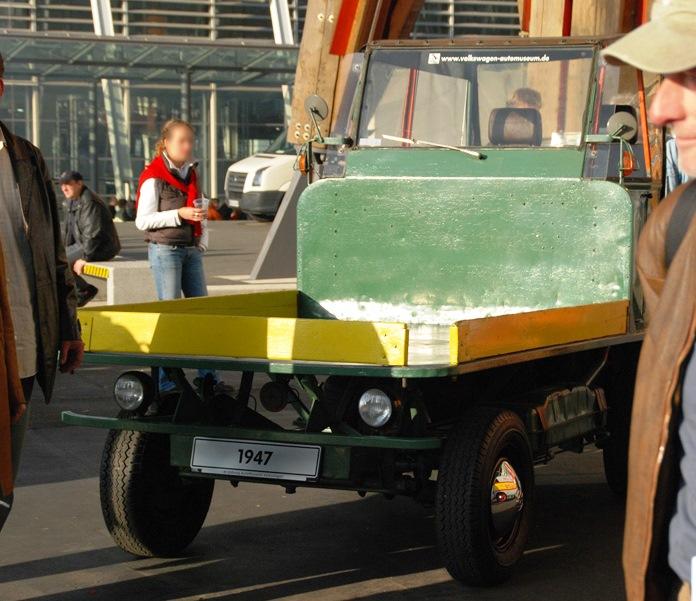 Volkswagen's commercial vehicle division now is very strong, offering its customers extremely high-quality products. And now you know that the beginning of its history was the humble Plattenwagen, which was special enough to become an inspiration for one of the most iconic cars ever.
Other interesting machines:
What is this tractor doing in the middle of a flower field?
Why Challenger Terra Gator TG 8333 has just three wheels?
Electric trucks are far from new – they were delivering goods a hundrend years ago;
Scammel Scarab – it is not your ordinary semi-truck – it is the mechanical horse;
Goliath GD 750 – three-wheeler truck with a tiny engine was more useful than it looks;
General Motors Bison – a vision of trucks of the future from 1964. Why didn't it stick?