Bollinger Motors is yet another new electric car company. How many of these startups have we already seen? Well, Bollinger at least is unique in its own way. It will produce capable off-roaders that do not care for glamour at all. And now Bollinger revealed that the company is going to be making an adaptable chassis-cab version of its B2 pick-up truck. It will be the first vehicle of this kind.
Robert Bollinger once had a successful advertising company. He sold it, bought a farm and started looking for a capable pickup truck. He didn't find anything that fit his needs and taste and so he decided to make one. Fast forward a couple of years and Bollinger Motors has two models ready for next year – B1 SUV and B2 pickup truck.
Unlike other electric vehicles, Bollinger cars are not here to win any kind of beauty pageants. They are big, have flat body panels and rather spartan interior. However, that was the idea. All aluminium body panels are easy to remove, which is why you see all the fasteners. If you ding a fender, you take it off and flatten it with a hammer.
Bollinger B1 and B2, officially introduced last year, are virtually identical, apart from one being an SUV and another – a pickup truck. Both feature a ladder-frame chassis, which is also made from aluminium, tall independent suspension, same 120 kWh battery and one motor for each axle. With a full charge B1 and B2 will be able to cover 322 km (200 miles), which is quite impressive given how unaerodynamic these things look. Of course, they will feature fast charging up to 120 kW, which will allow topping them up in 75 minutes.
Bollinger cars are made for off-road and cargo. Their curb weight is about 2.3 tonnes and yet they can pick up almost an equal amount of weight in cargo. They can also tow about 3.4 tonnes worth of treiler. Interestingly, because Bollinger doesn't have a conventional engine in the front, some narrow items can be as long as the car is, because what traditionally was a transmission tunnel is now a one very long thru-loading area.
Bollinger B1 and B2 certainly look cool and we do like the preposition of a toolbox car. However, they are quite expensive, starting from 125 thousand USD. Tesla Cybertruck has nothing to worry about then.
Now Bollinger introduced a new vehicle in its lineup. It is a B2-based adaptable chassis-cab truck, called B2CC. Essentially, it is a pickup truck with nothing on the rear portion of its chassis.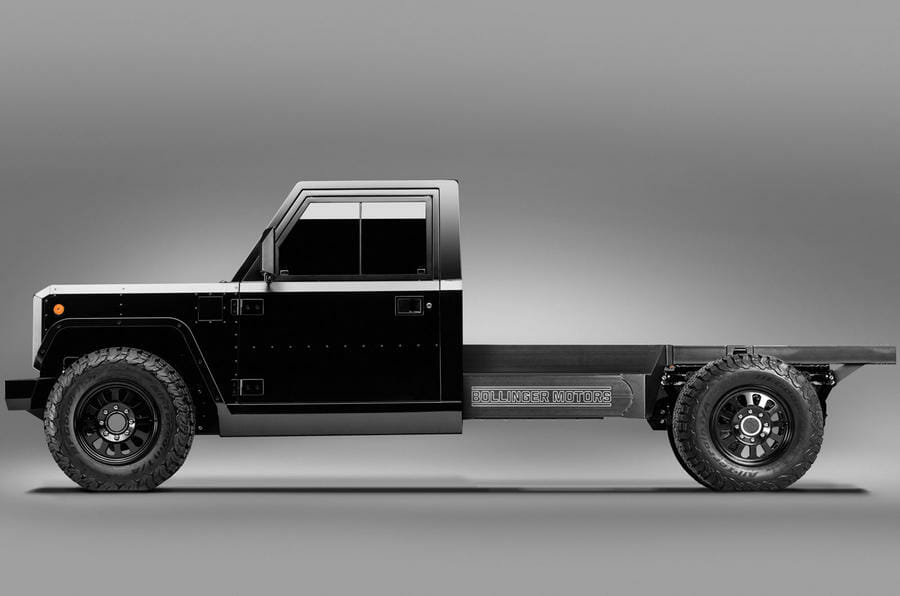 Buyers could mount all sorts of things there, including cranes, specialized cargo platforms, lifts, water tanks, platforms for transporting cars and so on. It would make a sick RV as well, although we suspect that majority of B2CC buyers are going to be commercial organizations.

B2CC comes in several chassis lengths and a two-door or four-door cab choice. It is likely to be cheaper than the B2, but we don't know the price yet. We also don't know whether it is going to be available as soon as the B2 itself, which will be available for order next year.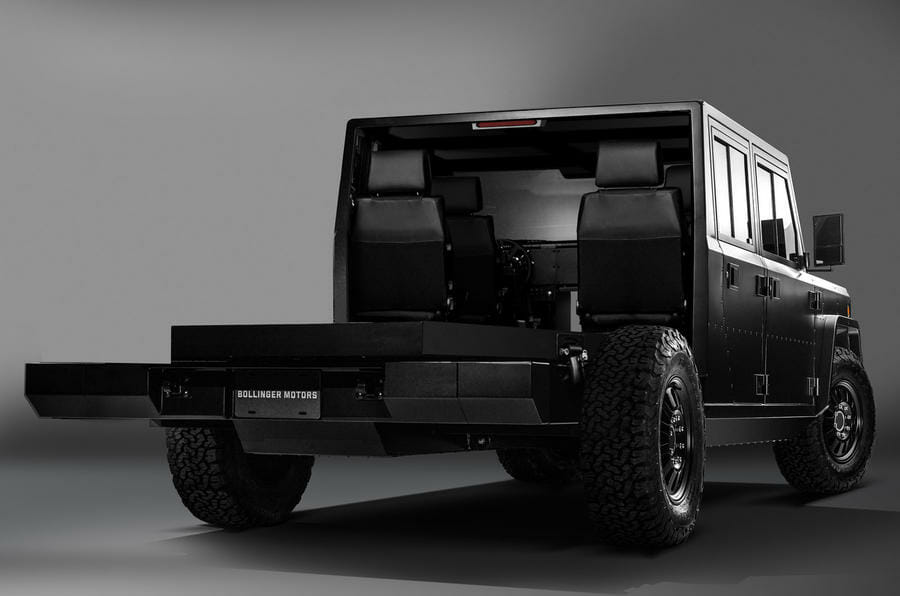 Bollinger B2CC is interesting because, as the manufacturer says, it is the world's first and only Class 3 all-electric chassis-cab truck platform. If it is not too expensive, we suspect that some construction companies, city utilities and similar organizations may be interested.