If you're a car enthusiast and someone asks you to name your 10 favourite sports cars, there is a high probability that the Porsche 911 is going to be on the list. A legendary car, manufactured since 1964, has now reached an impressive milestone. The millionth Porsche 911 has just rolled off the production line and it is about to go on a long journey to commemorate this anniversary.
The 911 was introduced in 1993 as a replacement for a smaller and slower 356. It was very similar to the model it was replacing though – it had the same basic shape, as well as rear-engine, rear-wheel-drive layout. However, it had a better 2 litter 6 cylinder engine, producing 130 HP (96 kW). It was decently fast and comfortable and quickly gained recognition in the world of automotive journalism.
911 evolved through the years. Air-cooled engine lived a fairly long time, but finally was replaced in 1997. People didn't like that change at first. Air-cooled engine was considered to be a unique feature of 911, which was part of its character. A few years ago Porsche started using electric power steering, which was another big change in the history of 911. People didn't like that either, but Porsche 911 continues to be very popular. It is the most important car in Porsche model range.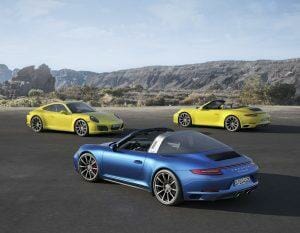 Porsche itself is very happy about this achievement, because during these 43 years 911 managed to achieve somewhere around 15 thousand victories in automotive sport. Furthermore, it is one of the most reliable cars on the market – something unachievable for major supercar manufacturers. It is estimated that around 70 % of all Porsche cars ever made are still drivable today.
One millionth Porsche 911 is an "Irish green" Carrera S. It has loads of various options and styling tweaks to mark this important occasion. However, it will not belong to a private owner. At first, it will go on a world tour and later it will be given to Porsche Museum in Stuttgart.
Dr. Wolfgang Porsche, Chairman of the Supervisory Board of Porsche AG, said: "54 years ago, I was able to take my first trips over the Grossglockner High Alpine Road with my father. The feeling of being in a 911 is just as enjoyable now as it was then".
Will there be a second million of 911's? Who knows, Porsche sales are growing and respect for the brand is huge. Maybe we will not have to wait for 43 more years to see 911 climb over the second big milestone.